3rd Quarter Newsletter 2019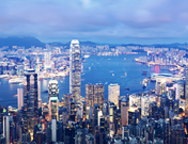 Hong Kong market outlook
Q3 2019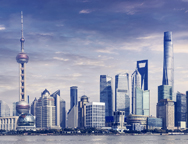 China launches STAR stock market for tech companies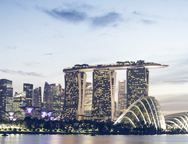 40% of Singapore employees are looking to change jobs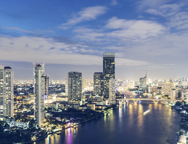 Eastern Economic Corridor Development Plan
SALARY OVERVIEW
Hong Kong - China - Singapore - Thailand
Q3 outlook: Hong Kong's economy is still growing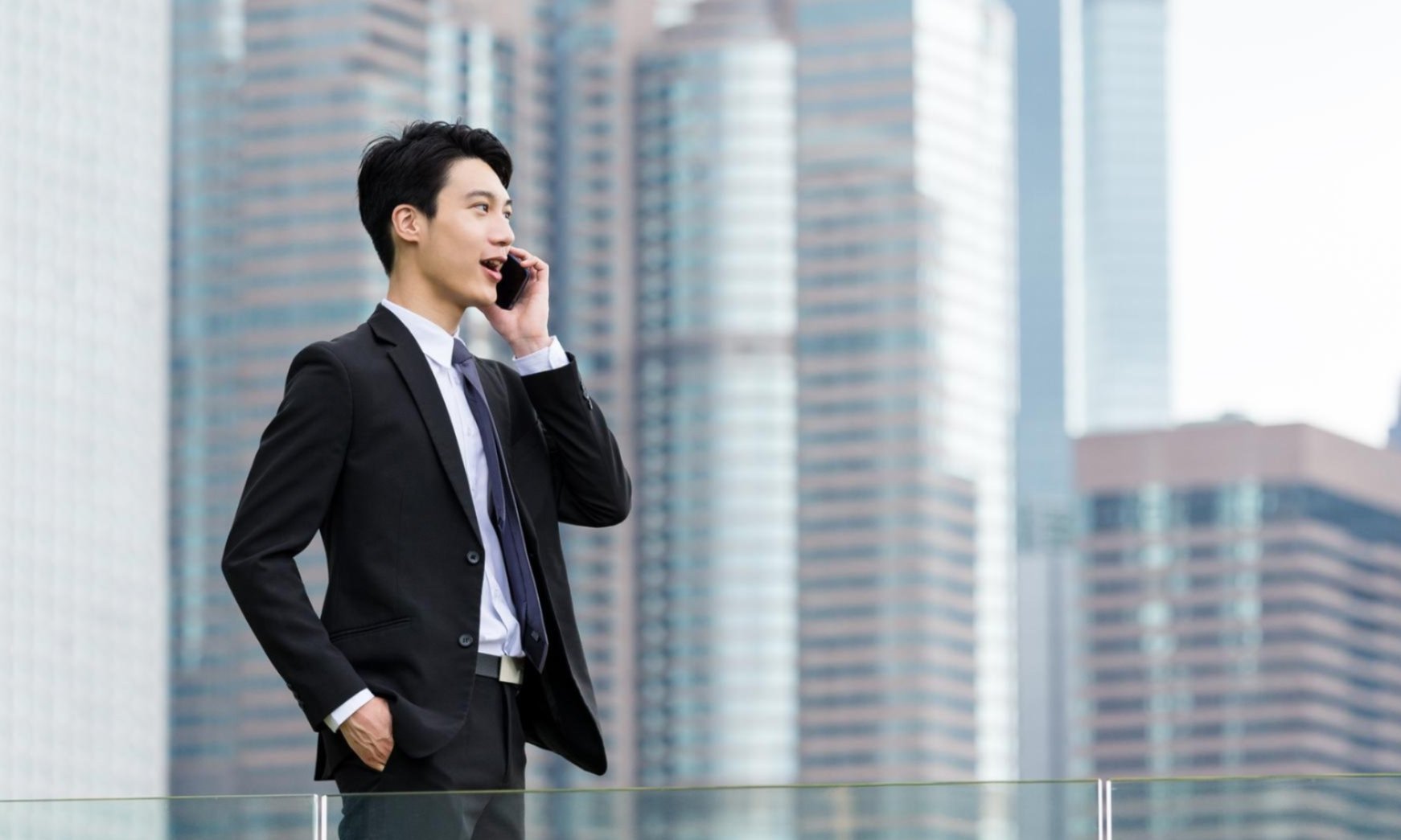 Despite some negativity in the press, Hong Kong's economy is still growing – 0.6% in Q1 2019, and the predictions for an overall annual growth of 2-3% still remain valid. Despite some unease recently, the real estate market continues to flourish, and is predicted to do so through the year, although investors will be keeping an eye on developments in the China-US trade war.
The labour market remains a candidate's market with the unemployment rate holding steady at 2.8%. Employers generally are predicting a stable outlook in hiring plans in Q3 2019, with 19% of employers anticipating new hiring needs – this is across all industries and sectors, but particularly across Finance, Professional Services, Construction and Trade. We are seeing an exponentially increasing demand for IT professionals, particularly software engineers and developers, across all industries and segments. With unemployment so low, we are seeing candidates demanding over 10% pay rises to move jobs – and companies are paying. With increasing activities in the Greater Bay Area development plans, we can expect more and more demand for quality job seekers, with employers potentially looking abroad to fill the skills gap.
Source: Recruiting Daily Advisor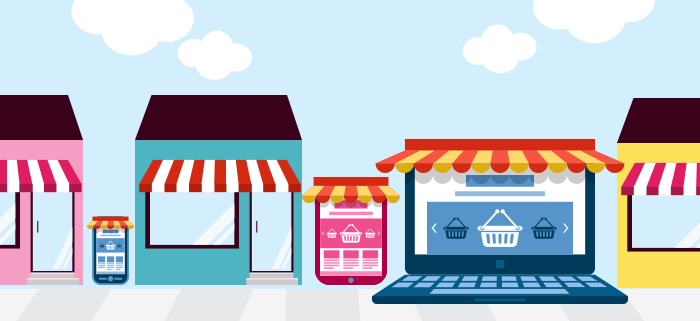 This quarter, we take a look at the trends affecting the retail industry in 2019. Against a backdrop of continued nervousness due to the US-China trade war, there is still intense competition in this sector, and indeed, the Hong Kong Trade Development Council forecasts modest growth in private consumption. Retail sales continue to be helped by government tax cuts, and rising property prices, which will lead to a feeling of greater individual wealth.
Data rules
Whether big data, machine learning in-store, or AI, retail stores are investing more and more in their data infrastructure to increase efficiency (through inventory management), retain customers (through analytics of spend and promoting loyalty) and ultimately boosting sales.
Making a healthy choice
The explosion of health products and new stores continues to dominate, with customers attempting to live better and make a conscious choice to buy products that promote so-called 'good living'. This means existing shops increasing their range of healthy options, whilst the time still remains ripe for new entrants to the market to capitalise on this trend.
Looking after our world matters
The environment matters, and Hong Kong has been lagging behind other countries in tackling this issue, with individual fruits wrapped in plastic in supermarkets. There are signs that this is changing. The ban on single use plastics in retailers, including straws, is becoming more and more widespread, with outlets swapping to metal or bamboo alternatives, or even ditching them all together, including big brands like Café de Coral, KFC and Yoshinoya. With 'zero-waste' stores flourishing, signs are promising that other retailers will follow suit.
The digital evolution
The pace of change continues to increase, with shops now offering a fully fledged online offering, through home delivery and updated product information. We expect to see this technology-driven evolution to take place in-store as well, with trials of apps to let customers shop more efficiently, for example by searching stock levels through an app, rather than manually hunting for products.
Source: South China Morning Post
Online Gemini Career Centre
Did you know Gemini is one the few companies in Asia that offers an online career portal to job seekers?
A career portal offers job seekers a 24/7 platform to prepare for and manage their job search. From resume builders to networking email templates to various learning materials; a good career platform allows individuals to efficiently and effectively manage their job search. In fact, in many countries it has become an important element in every individual's job search process.
Gemini developed its own career portal back in 2015 and the Gemini Career Centre got a major upgrade this year. We added a few functions that will benefit every job seeker including the resume builder, a networking support tool and an application tracker.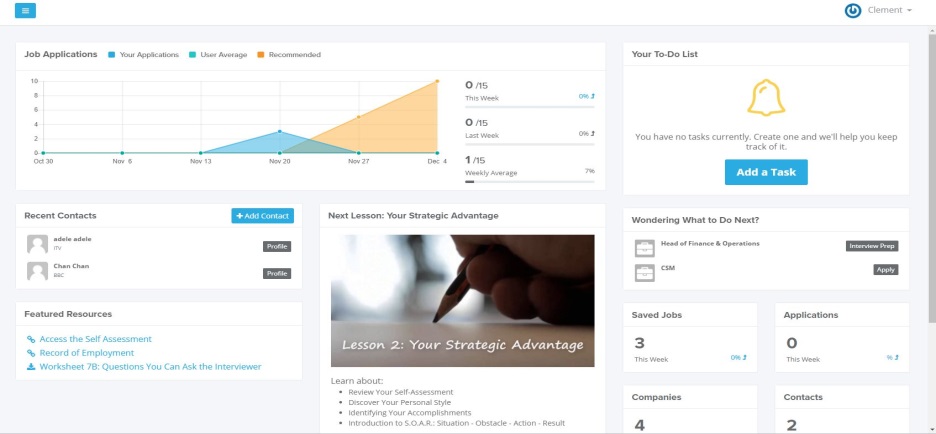 The resume builder
Enables job seekers to produce a professional CV in a few clicks. Job seekers are provided with different resume templates and within a few clicks and personal data input, a resume is produced and exported to your computer in no-time.
Networking functions
Networking is an important part in every job search, as the success rate when applying for a job through an personal/professional connection, tends to be much higher. Gemini Career Centre's networking support enables job seekers to find interesting leisure or business events near them, and it offers email templates to use when reaching out to people in their networks.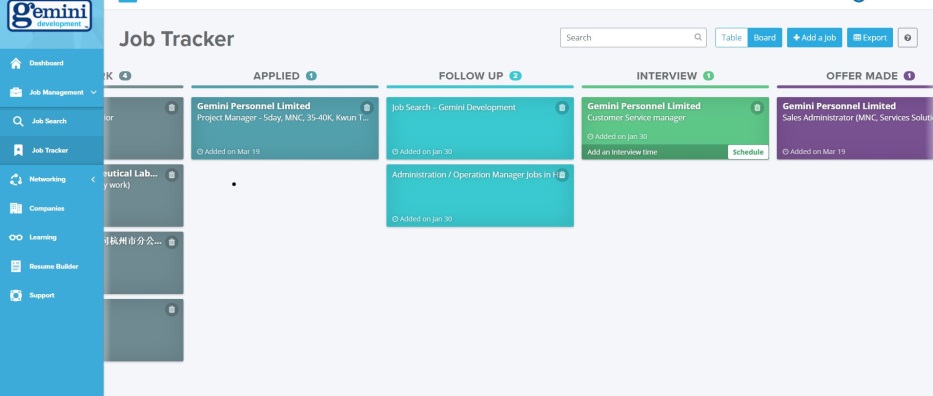 Application tracker
Job seekers often apply to more than one job at a time. Therefore, an application tracker is a crucial tool during the job search process. It enables job seekers to keep an overview of the jobs they have applied to, and the ones that they are looking to apply to. The one-click-save function lets job seekers save job descriptions from a variety of job platforms, such as Linkedin and JobsDB, in their application tracker in the Gemini Career Centre.
For more information please contact Gemini Development at consulting@gemini.com.hk
Angela Suen joined the Hong Kong office as Recruitment Consultant specialising in the FMCG industry.
Angela held different sales positions in both start-ups and rapidly growing companies before joining Gemini. She's an analytical thinker with strong communication skills.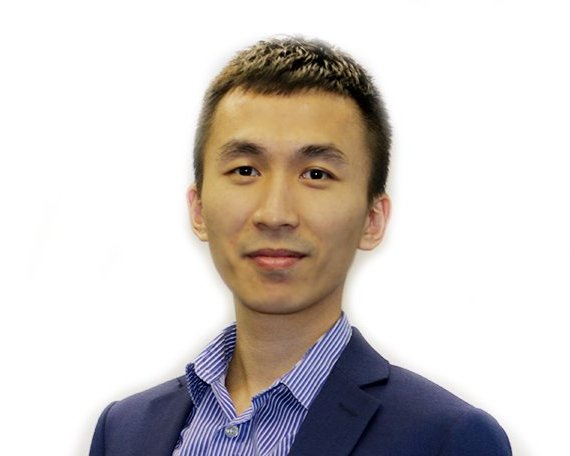 Edwin Li also joined the Hong Kong office as Recruitment Consultant, focusing on positions in Professional Services.
Edwin has a background in Business Development in the start-up industry and graduated from the Chinese University in Hong Kong (BBA).
Accounting Officer
Nationality: Hong Kong
Based: Hong Kong
Languages: Native Cantonese and good English
Availability: One month's notice
Skills:
• Over 20 years of accounting experience and solid experience in manufacturing
and trading companies
• Bachelor in Accounting
• Substantial experience in handling full set of accounts, preparing monthly management
and cash flow reports
For more information about this candidate, please contact Susanna Kwok
Executive Assistant
Nationality: Chinese
Based: Hong Kong
Languages: Native Mandarin, fluent English and Cantonese
Availability: Immediately
Skills:
• 3 years of working experience as executive assistant/personal assistant
• Previously worked in a stated-owned company and provided secretarial support to CEO
• Experience in communicating with Chinese corporate and government bodies
• Able and experienced in travelling to China
For more information about this candidate, please contact Edwin Li
Senior UI Designer
Nationality: Hong Kong
Based: Hong Kong
Languages: Native Cantonese and fluent English
Availability: Immediately
Skills:
• With a Bachelor's degree in Design Computing. Equipped with a toolbox of skills in user
experience, interaction design, graphic design, programming and object design
• Skilled at tackling design problems in unconventional and creative ways. Good with
selecting the correct tools needed for specific social and commercial challenges and to
use those skills to produce unique, innovative solutions
• A solid understanding of how digital information and multimedia is used, stored and
manipulated
For more information about this candidate, please contact Johnathan Lam
VP/Deputy CMO, Retail Marketing
Nationality: French
Based: Hong Kong
Languages: English and French + 3 more European languages at intermediate level
Availability: Immediately
Skills:
• Senior executive with 15+ years' experience in the premium/luxury beauty, watch
& jewelry sectors both on the agency side and in-house at major luxury groups
• Specialty in international brand management, strategic business transformation and
business units management, wholesale + direct retail (300+ boutique network), global
remit incl. APAC
• Double Master in Marketing and Business Law from Top French institution
For more information about this candidate, please contact Benjamin Brustis
Regional Marketing Manager
Nationality: Hong Kong
Based: Hong Kong
Languages: Native Cantonese and fluent spoken English and Mandarin
Availability: One month's notice
Skills:
• 10 years' marketing experience in jewelry and skincare retail industry
• MSc. in Corporate Communications, BBA in Marketing & Information Systems
• Solid all-round marketing experience including budgeting, marketing campaigns &
product launches, public relations, regional analysis & reporting with strong regional
market exposure
For more information about this candidate, please contact Lauris Yip
Copyright © 2019 Gemini Personnel Limited. All Rights Reserved.
If you no longer wish to receive emails then Unsubscribe